Commercial Vinyl Flooring
At Carpet One Floor & Home in Latham and Clifton, we have luxury vinyl that is perfect for your commercial project. We are proud to offer commercial luxury vinyl installation, where we focus on completing your project successfully with your utmost satisfaction. We will ensure your happiness before, during, and after your installation is complete.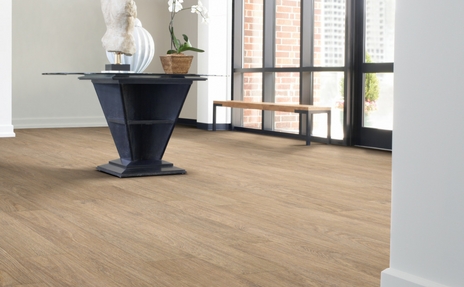 About Commercial Vinyl
Commercial vinyl is a flooring type that continues to grow in popularity as time and technology work to improve it. Commercial vinyl often mimics the look of authentic hardwood or stone. Business owners and homeowners alike enjoy the charm that these real stone and hardwood materials bring, but they are often not sturdy enough for commercial spaces. Stability makes vinyl an ideal choice; it takes on the look of what you want while also offering durability like no other floor.
Styles, colors, and textures range in look and price, but one thing is clear: luxury vinyl is an excellent choice for commercial spaces. Luxury vinyl is resistant to scuffs and the normal wear of steps. It is not prone to scratching with any shoe and doesn't collect dust or debris. Luxury vinyl is also water resistant, so accidental spills are no problem. Similarly, luxury vinyl is stain resistant, so even when a brightly colored liquid or food falls, it will not be an issue as long as it is not left.
Just like any other type of flooring in a commercial space, we recommend keeping luxury vinyl clean by sweeping every day and cleaning up accidents when they happen. Keeping up with cleaning will make your luxury vinyl last longer no matter what space it is in.
If you want to learn more about luxury vinyl, come into our showroom and check out our available options!