Kitchen Tile
Your kitchen is a space that holds considerable monetary and sentimental value. It should be a reflection of your personality while also being functional enough to serve its purpose. At Carpet One Floor & Home in Latham and Clifton Park, we're here to help you make that goal a reality. We are your local experts when it comes to tile; we can even offer design advice or give our input on what the best way to install your tile is. Our showroom is full of kitchen tile for backsplashes, floors, and walls. Whether you've already decided on the tile you're looking for or still want to ask more questions, our experts can help, and our showroom is a great place to start!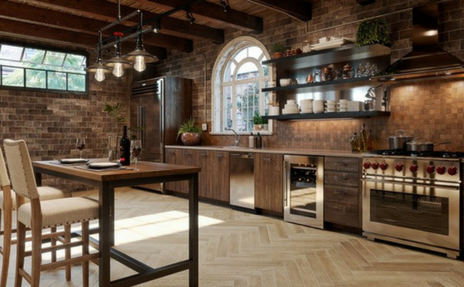 Kitchen Flooring
Tile is a highly preferred floor type for kitchens because of its ability to resist moisture. Kitchens are also rooms where there's a lot of movement, and tile stands up well to traffic. It does not get scuffed or scratched easily and is low maintenance. It is also pretty likely that an accident will happen in your kitchen, due to the amount of food and drink that is prepared there. Tile is a durable material, so it does not dent or absorb stains quickly. Keeping tile floor clean is easy, sweep up to prevent dust from settling into the cracks, and mop occasionally to ensure the tile continues to shine for years to come.
Kitchen Backsplash
Kitchen backsplashes with tile are highly customizable and easy to clean. They have become the number one material used, and offer infinite amounts of design choices. Whether you want to follow a pattern that is square, rectangular, or round, tile gives you the opportunity to show off your creativity. It is also easy to clean, so installing it behind stoves and areas where there may be grease splatter is an ideal way to keep from constantly scrubbing walls.